Environmental and Experimental Biology
Environmental and Experimental Biology is an international print/electronic journal published four times a year, owned by a non-profit-making government-funded university. Original research papers covering all aspects of modern biology are welcome. The EEB publishes original articles, brief communications and reviews. Founded in 2003 as Acta Universitatis Latviensis ser. Biology, since 2010 EEB.
Publication is free of charge.
Featured Content
Arturs Stalažs, Ineta Baka, Andrejs Svilāns 2020. New species of three monophagous arthropods (Acari & Hemiptera) associated with common walnut (Juglans regia) in Latvia. Environmental and Experimental Biology 18: .
DOI: 10.22364/eeb.18.

Fig. 2. Panaphis juglandis colonies on Juglans regia (Sigulda, 14 August 2019). A, an overview of colony; B, P. juglandis colony attended by ants; C, P. juglandis colony attacked by Chrysopa sp. larvae. Photo: Andrejs Svilāns.
EEB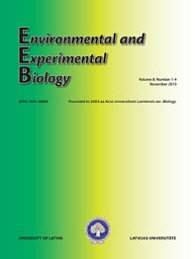 Editor-in-Chief
Prof. Gederts Ievinsh Published by
University of Latvia

For Authors
Indexing