Environmental and Experimental Biology
Environmental and Experimental Biology is an international print/electronic journal published four times a year, owned by a non-profit-making government-funded university. Original research papers covering all aspects of modern biology are welcome. The EEB publishes original articles, brief communications and reviews. Founded in 2003 as Acta Universitatis Latviensis ser. Biology, since 2010 EEB.
Publication is free of charge.
Featured Content
Muter O., Grantina-Ievina L., Makarenkova G., Vecstaudza D., Strikauska S., Selga T., Kasparinskis R., Stelmahere S., Steiner C.2017. Effect of biochar and Trichoderma application on fungal diversity and growth of Zea mays in a sandy loam soil. Environmental and Experimental Biology 15: 289–296.
DOI: 10.22364/eeb.15.30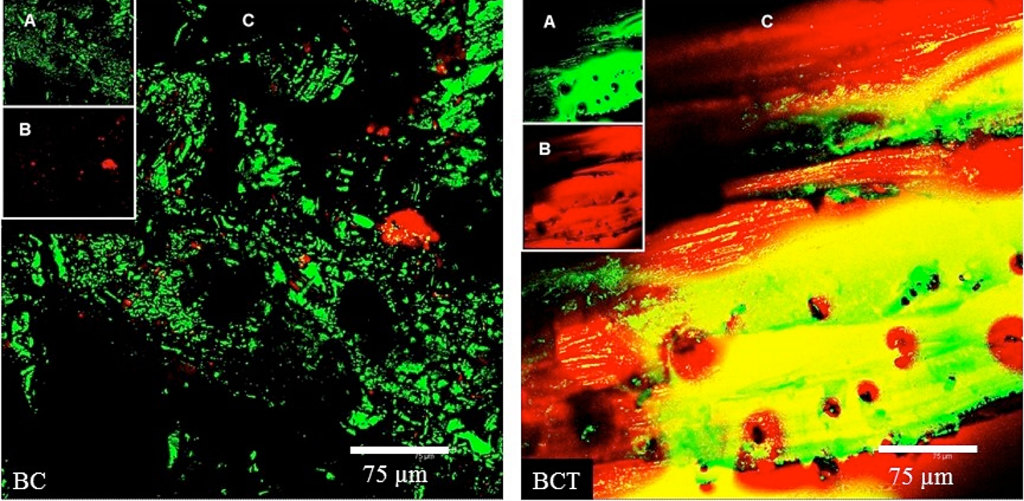 Fig. 2. Confocal laser scanning micrographs of the straw-derived biochar surface with biofilm. Biochar was sampled from soil after the vegetation experiment with maize. BC, biochar; BCT, BC + T. viride. Green color corresponds to zones without nucleic acids (A), while red and yellow to zones with nucleic acids (B). C shows summary visualization of distribution of both zones. Black zones correspond to non-scanned surfaces situated either above or below the scanning zone.
EEB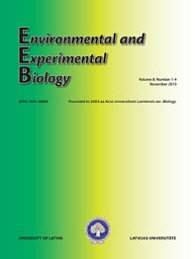 Editor-in-Chief
Prof. Gederts Ievinsh


Published by
University of Latvia

For Authors
Indexing