Featured Content
Bagangao M.T., Manila-Fajardo A.C. 2022. Floral characteristics support nocturnal pollination and pollination syndrome in Barringtonia racemosa. Environmental and Experimental Biology 20: 25–35.
DOI: 10.22364/eeb.20.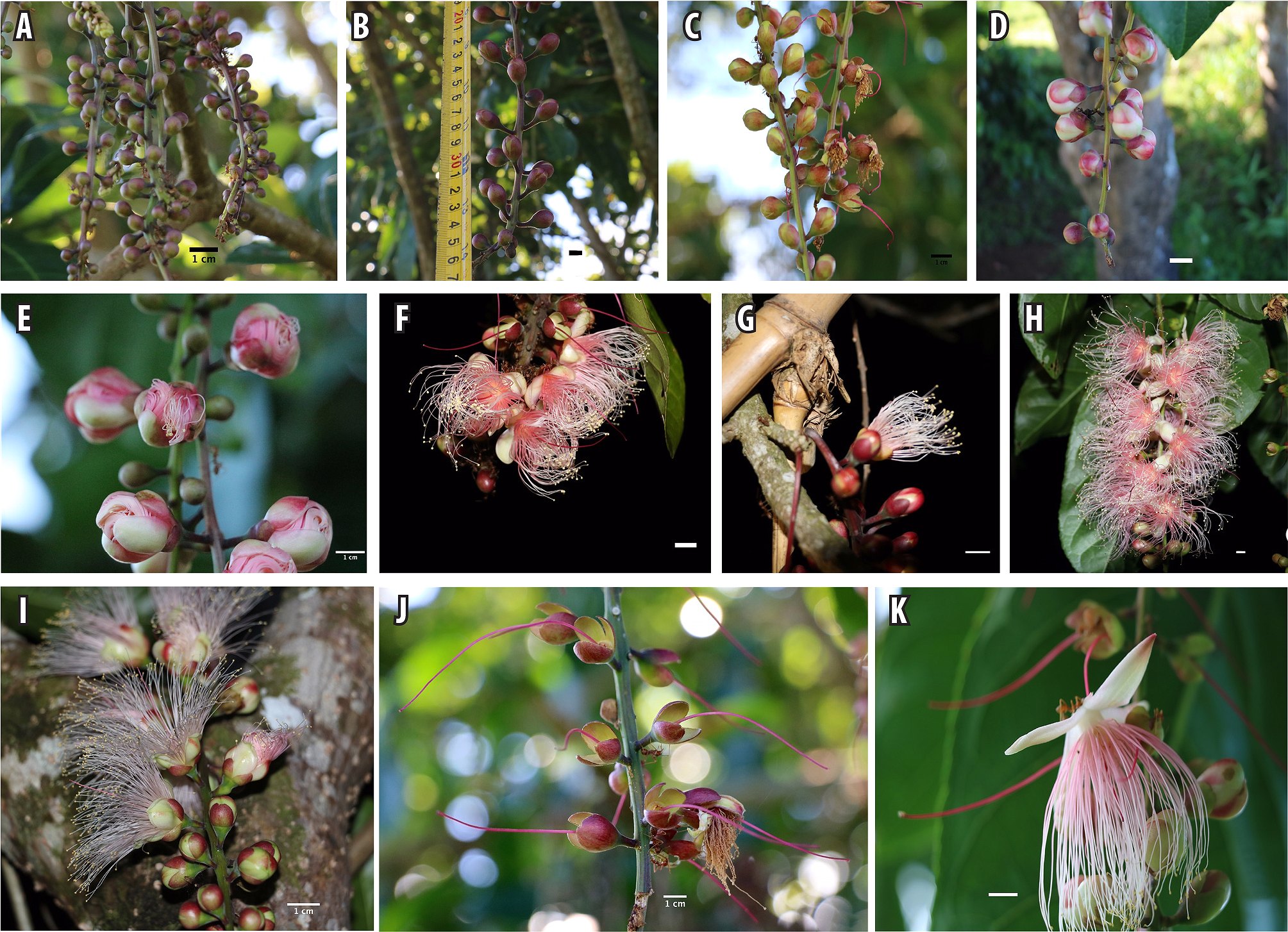 Individual floral phenology of Barringtonia racemosa observed from bud stage (A – D) to breakage (E,) full opening (F – I), until dehiscence (J – K).
Table of Contents
Reviews
Ishfaq Majeed Malik, Hidayatullah Tak, G.M. Lone, Wasim Muzamil Dass
Phytoparasitic nematodes as the major threat to viticulture
Environ Exp Biol (2022) 20: 1–10
Orginal Papers
Jyoti Solanki, Sayali More, Kaushik Jodhani, Dhaval Patel, M. Nataraj
Efficacy of biosurfactant as a coating material for post-harvest preservation of jamun fruit (Syzygium cumini)
Environ Exp Biol (2022) 20: 11–23
Meijei T. Bagangao, Analinda C. Manila-Fajardo
Floral characteristics support nocturnal pollination and pollination syndrome in Barringtonia racemosa
Environ Exp Biol (2022) 20: 25–35
Amar Bouker, Zoheir Mehdadi, Ali Latreche, Boubakr Saidi
Seed germination requirements and responses to salinity and water stress of Centaurea eriophora
Environ Exp Biol (2022) 20: 37–43
Pushpendra Kumar Dwivedi, Divya Bagchi, Suvendra Nath Bagchi
Adherence of Aeromonas veronii, Shigella flexneri and Escherichia fergusonii with Microcystis-dominated bloom relates to their ability to utilize chitin
Environ Exp Biol (2022) 20: 45–54
Mahabir Singh, Kuldeep Yadav, Narender Singh
Indirect organogenesis in Ephedra foliata
Environ Exp Biol (2022) 20: 55–60
Munmi Dutta, Mantu Bhuyan, Sarbeswar Kalita
Responses of growth and antioxidative enzymes to different Ni concentrations in castor bean (Ricinus communis)
Environ Exp Biol (2022) 20: 61–68
Hakon Kampe-Persson
Threatened to least concern and after: the Barnacle Goose Branta leucopsis in Latvia
Environ Exp Biol (2022) 20: 69–78
Conference abstracts
Abstracts of the 80th Scientific Conference of the University of Latvia
Environ Exp Biol (2022) 20: 97–102