Featured Content
Haque S.M., Biswajit Ghosh B. 2013. Micropropagation, in vitro flowering and cytological studies of Bacopa chamaedryoides, an ethno-medicinal plant. Environmental and Experimental Biology 11: 59–67.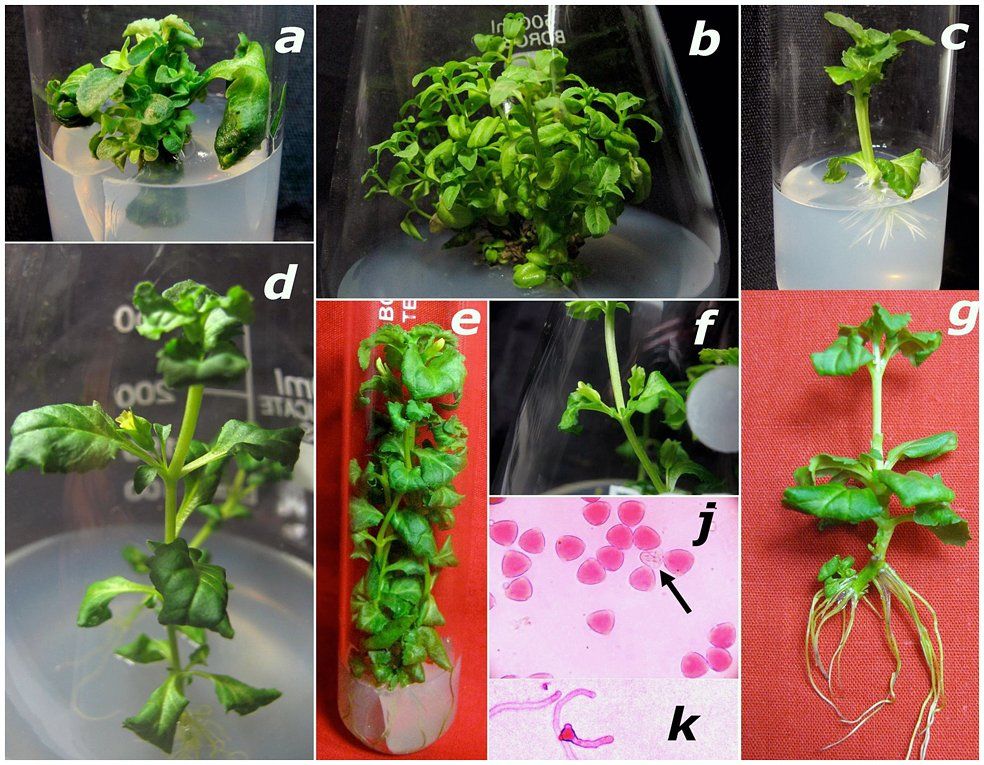 Micropropagation and in vitro flowering of Bacopa chamaedryoides.
Table of Contents
Orginal Articles
Gints Kalniņš, Indulis Cielēns, Regīna Renhofa
Virus-like particles addressed by HBV preS1 sequences
Env Exp Biol (2013) 11: 1–8
Reza Talebi, Mohammad Hossien Ensafi, Nima Baghebani, Ezzat Karami, Khosro Mohammadi
Physiological responses of chickpea (Cicer arietinum) genotypes to drought stress
Env Exp Biol (2013) 11: 9–15
Anna Janberga, Ilze Irbe, Vladimirs Biziks, Nina Kurnosova, Mikheil D. Asatiani, Bruno Andersons, Ingeborga Andersone
Biodegradation of treated softwood and hardwood species by brown rot fungi
Env Exp Biol (2013) 11: 17–22
Lelde Grantina-Ievina, Raimonds Kasparinskis, Guntis Tabors, Vizma Nikolajeva
Features of saprophytic soil microorganism communities in conifer stands with or without Heterobasidion annosum sensu lato infection: a special emphasis on Penicillium spp.
Env Exp Biol (2013) 11: 23–38
Pushp Sharma, Virender Sardana, S.S. Banga
Salt tolerance of Indian mustard (Brassica juncea) at germination and early seedling growth
Env Exp Biol (2013) 11: 39–46
Inese Bērziņa, Ilze Matīse
Association between the use of the acaricides, household type, tick bite and seropositivity against Anaplasma phagocytophilum and Borrelia burgdorferi sensu lato in clinically healthy dogs in Latvia
Env Exp Biol (2013) 11: 47–51
Mahshid Ashrafi, Mansour Sarajuoghi, Khosro Mohammadi, Shahnaz Zarei
Effect of nanosilver application on agronomic traits of soybean in relation to different fertilizers and weed density in field conditions
Env Exp Biol (2013) 11: 53–58
Sk Moquammel Haque, Biswajit Ghosh
Micropropagation, in vitro flowering and cytological studies of Bacopa chamaedryoides, an ethno-medicinal plant
Env Exp Biol (2013) 11: 59–67
Brief Communications
Env Exp Biol (2013) 11:
Ashutosh Pathak, Mitesh Dwivedi, Naresh Laddha, Rasheedunnisa Begum, Aruna Joshi
DNA isolation from fresh leaf tissue of Tylophora indica and Bacopa monnieri
Env Exp Biol (2013) 11: 69–71